---
Family Caregiving Provides Work-life Balance For Gladys
Gladys said compassion is all you really need to be a caregiver. "I worked at a restaurant so I know how to deal with people," she said. But she didn't have any personal experience with caregiving until taking care of her mother. "For me working as a caregiver … is a new experience," she said. But it's all about just asking about their needs and listening.
Many people are torn between the desire and need to care for a parent or other family member – and the need to make a living.
Like Gladys B. in Skokie, Ill., who was facing that problem during the pandemic. She had lost her restaurant job when the restaurant shut down during the early days of COVID-19. That meant she had more time to help her mother, who was in her mid-80s and beginning to experience some health problems. But Gladys was nervous about what would happen next. She wanted to keep helping her mom, but she also needed to make a living!
A friend mentioned to her that in some cases you can be hired by Help at Home to care for a qualified relative. This can be the best of both worlds. In a case like this, the client is getting quality care from someone they know and trust. But the caregiver is not having to give up their career, or lose hours at work, in order to help. Their job is taking care of their loved one! For people who have a loved one with significant caregiving needs, this can be a perfect work-life balance solution. It allows you to have a satisfying career, while being there for your loved one! (Call the Help at Home office nearest you to find out about whether this could be an option for you.)
Now, Gladys is able to help her mother, Maria R., and make a living at the same time!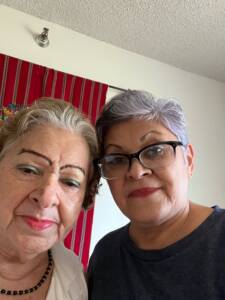 Flexible and expanding opportunity for caregivers
Gladys was so pleased to be hired by Help at Home. Now she is able to be a steadying arm for her mother, who has balance issues as well as back pain and arthritis. Gladys can help her mom go for walks and get exercise. But her mom didn't require full-time care – and so the hours were limited.
Her supervisor suggested she take on some additional clients – this would mean more hours and more pay. Gladys said yes and has worked for two clients other than her mother. Right now, she is caring for her mother and another client who has dementia. The work is very different, because the second client has more needs than her mother. But Gladys is glad to be able to help someone, develop a caregiving career and still support her mother's needs.
Of course, many people have different reasons for needing flexible work arrangements. Some young parents want to work only in the mornings before children are out of school. Some college students may want to only work on Tuesdays and Thursdays, because they have classes on other days. Some people may not care what days they work, but want to keep it at less than 20 hours a week for personal reasons.
Most of the time Help at Home can work with reliable caregivers to ensure they have the number of hours and the days that work best for them.
What it takes to be a caregiver
Caregivers often find that each client has very different needs. Gladys helps her mom, who has arthritis and a lot of back pain, go for walks or even make trips to the doctor. But her other client is homebound and needs help with personal hygiene. Gladys also prepares meals for her.
She is good at it! She recently received a certificate from the Illinois Department of Aging, recognizing her for quality caregiving for seniors.
Even though they are working with people who are experiencing health challenges, caregivers do not have to have medical skills or training. Instead, they are providing the services someone needs to continue to live at home. In some cases, that may mean caring for someone who lives with an adult child, while that child is at work. Or it can mean doing laundry or helping prepare meals for someone who can live alone, but just needs a bit of help.
Many caregivers come to caregiving from other jobs – just as Gladys did. While working in a restaurant is different than working as a caregiver, there are some overlapping skills. Preparing meals can be part of the job – and a lot of that is about finding out what the client wants.