---
Help at Home Honored as Bronze Stevie® Award Winner in 2022 Stevie Awards for Great Employers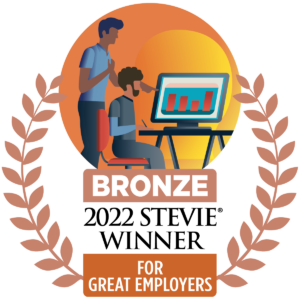 (CHICAGO, Illinois – August 25,  2022)– Help at Home has been named the winner of a Bronze Stevie Award in the Most Valuable Employer category in the seventh annual Stevie Awards for Great Employers.
The Stevie Awards for Great Employers recognize the world's best employers and the human resources professionals, teams, achievements and HR-related products and suppliers who help to create and drive great places to work.
More than 950 nominations from organizations of all sizes in 26 nations were submitted this year for consideration in a wide range of HR-related categories, including Achievement in Workplace Safety & Compliance, Employer of the Year, Chief Human Resources Officer of the Year, Human Resources Team of the Year, Employee Relations Solution Provider of the Year among others.  Help at Home was nominated in the Most Valuable Employer category for COVID-19 response.
Help at Home's COVID-19 response entailed adding the $1M Home Care Fund, tech-enabled recruiting and learning to ensure proper training for caregivers and real-time caregiver communication related to safety and PPE updates.
"We are honored to receive this distinguished recognition," said Help at Home COO Ray Smithberger. "I am very proud of our team's commitment during COVID-19 to ensure our clients and caregivers were safe and healthy. To be recognized by the Stevie Awards for our operational response is a reflection of our team's commitment to highest quality of care in the home."
"As an organization, we pride ourselves on being effective with our operational responses to our employees, and COVID-19 was no different," said Joel Davis, chief caregiver. "Help at Home will continue to provide our employees with the same compassion and diligence they bring to us every day."
This is the first Stevie Awards win for Help at Home. They also celebrated a major recognition by Forbes, landing the 14th spot on the Best Employers for Women list.
More than 100 professionals worldwide participated in the judging process to select this year's Gold, Silver, and Bronze Stevie Award winners.  Winners in the Employer of the Year categories were determined by a unique blending of the ratings of the professional judges and more than 80,000 public votes.  The public vote was sponsored by HiBob.
"We congratulate all of the winners in the seventh edition of the Stevie Awards for Great Employers, and we look forward to celebrating them in Las Vegas on September 17, our first awards banquet since 2019," said Stevies president Maggie Miller.
Details about the Stevie Awards for Great Employers and the list of 2022 Stevie winners are available at www.StevieAwards.com/HR.
About Help at Home
Help at Home is the largest national provider of in-home, personal care services, delivering high-quality, relationship-based care services to help seniors and individuals living with disabilities in their homes, the preferred setting of care. During the second quarter of 2022, Help at Home, with more than 190 branch locations across 11 states, provided in-home, community-based services to more than 65,000 clients monthly with the help of 47,000 highly trained caregivers. For more information about Help at Home, visit www.helpathome.com.
About the Stevie Awards
Stevie Awards are conferred in eight programs: the Asia-Pacific Stevie Awards, the German Stevie Awards, the Middle East & North Africa Stevie Awards, The American Business Awards®, The International Business Awards®, the Stevie Awards for Great Employers, the Stevie Awards for Women in Business, and the Stevie Awards for Sales & Customer Service. Stevie Awards competitions receive more than 12,000 entries each year from organizations in more than 70 nations. Honoring organizations of all types and sizes and the people behind them, the Stevies recognize outstanding performances in the workplace worldwide. Learn more about the Stevie Awards at http://www.StevieAwards.com.