---
A 5-Year Memorial Day Tradition
Illinois caregiver Tricia B. didn't know what to expect when she first started her career working in the caregiving field. In the 14 years working for Help at Home, she's discovered the addition of many more caring relationships in her life.
"My clients are the greatest," Tricia said. "They are like family to me."
Every year, near Memorial Day she takes one of her clients to purchase flowers and then they make a trip to several gravesites in cemeteries near the client's home to help her to honor her client's loved ones.
In the five years that Tricia and her client have been working together, some things have changed. The client has gotten older and needs more assistance to walk. Tricia now places the flowers on the gravesites for the client as she watches from her car. It sounds like a somber occasion, but Tricia said she tries to create happy moments by doing things like stopping for ice cream.
Tricia loves to hear stories from her client. One of her clients recited a story about visiting her father in Hawaii after WWII while he was on leave from serving in Occupied Japan.
A veteran caregiver, Tricia's philosophy is to just treat her clients the way she would want to be treated – and that means helping with the tasks they want help with and listening to them.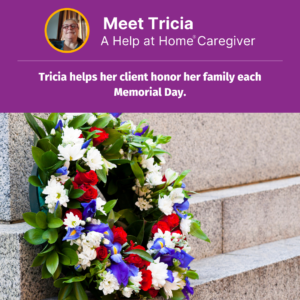 More Than a Job
Tricia's role is crucial to ensuring those who want to live at home but need help with activities of daily living can live as independently as possible. For example, she helps with the grocery shopping, housework and meal preparation. She loves to take clients who enjoy getting out of the house and doing things they can't do on their own anymore to a park on a nice day or a concert or play.
"I love for my clients to get out," said Tricia, "because then they are able to get some sunshine and fresh air and exercise." Depending on the client, even a trip to the back porch to sip tea in the breeze can be an important day brightener!
Tricia said it's important to listen to clients about their needs. She said it's easy to walk into a home and assume that she knows what needs to be done. She might notice some dirty dishes in the sink, for example. But she always asks first. They might plan to do the dishes on their own but want something off a shelf they can't reach or need help with the laundry which is too heavy for them to carry.
Relationships that are Like Family
Tricia said the bond she forms with clients is important, and she also enjoys getting to know the family members of the clients. Some clients may be living with family members, and a caregiver is only needed while the family member is at work. In other cases, a family member may be further away and not able to check on their loved one often. Either way, Tricia wants to give the families peace of mind, knowing that their loved ones are being cared for by someone who really does care about them.